Our Staff & Spa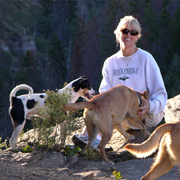 The staff at Vail Doggie Day Spa are dog lovers, first and foremost. We enjoy spending our days playing with and watching dogs play. Because of our love for dogs we care deeply about a dog's safety and happiness, and put this aspect of the business in the forefront.
We have quickly become experienced and knowledgeable in dog social behavior and do everything possible to make sure each dog's stay is as enjoyable as possible.
Our Facility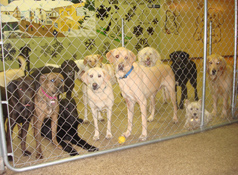 At Vail Doggie Day Spa we want to ensure your dog's safety and happiness. By splitting the play area into three separate units the staff can determine dogs' different play styles and group them accordingly.
Floors are also vacuumed and mopped at the end of each day, so that each day dogs are playing in a clean and sanitized environment. Any mistakes that occur are immediately cleaned and removed from the area. At Vail Doggie Day Spa we want to make sure your dog's tail is wagging when he walks in our door.
Three indoor play areas (about 25 ft x 75 ft)
One outdoor play area (about 15 ft x 8 ft)
Individual suites for boarding
Temperature controlled rooms
Garage doors to open on warm days
Floors are vacuumed and mopped daily
Any mistakes are cleaned immediately
Clean toys everyday
Couches and furniture for nap times
Under New Ownership
In Spring of 2007, employee Holly Walthers purchased Camp K9 Resort. To celebrate its Rocky Mountain location and to reflect the improved and expanded services, Ms. Walthers changed the name to Vail Doggie Day Spa and Lodging, Inc.
Facility Floor Plan